Vladimir Jurowski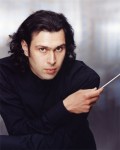 Born in 1972 in Moscow, Vladimir Jurowski is a representative of a Russian musical dynasty: he is a son of conductor Michail Jurowski, grandson of composer Vladimir Jurowski, and great-grandson of conductor David Block (a founder of the State Cinema Symphony Orchestra). He received his musical education at the Music College of the Moscow Conservatory, Hochschule für Musik Hanns Eisler (Berlin), and Hochschule für Musik Carl Maria von Weber (Dresden).

Jurowski was trained in conducting by his father and, later, by Alexander von Brück, Rolf Reuter, and Sir Colin Davis, and served as assistant conductor to Gennady Rozhdestvensky. In 1995 he made his triumphant international debut at the Wexford Festival Opera conducting Rimsky-Korsakov's May Night. After that, Jurowski was a guest conductor at some of the world's major theaters, including Covent Garden (London), Opéra Bastille (Paris), The Metropolitan Opera (New York), Komische Oper (Berlin), Teatro La Fenice (Venice), Teatro alla Scala (Milan), and the Bolshoi Theatre (Moscow). He conducted leading symphony orchestras such as the Vienna, Berlin, and New York Philharmonics; the Philadelphia, Chicago, Boston, and Cleveland Symphony Orchestras; the Staatskapelle Dresden; the Leipzig Gewandhausorchester; the Royal Concertgebouw Orchestra; the Bavarian Radio Symphony Orchestra; and many others. From 2001 to 2013 he was the Music Director of Glyndebourne Festival Opera, and from 2005 to 2009 he served as the Principal Guest Conductor of the Russian National Orchestra. Since 2007 he is the Principal Conductor of the London Philharmonic Orchestra as well as one of the three Principal Artists of the Orchestra of the Age of Enlightenment (sharing this title with Sir Simon Rattle and Ivan Fisher). Since 2009 Jurowski also collaborates with the Chamber Orchestra of Europe.

In 2011 Jurowski stepped into position of the Artistic Director of the State Academic Symphony Orchestra of Russia "Evgeny Svetlanov". With the orchestra he performed at the festivals The Art Plaza (Saint Petersburg) and Another Space (Moscow), at the 3rd Russian Symphonic Forum (Yekaterinburg), in concerts dedicated to the memory of Evgeny Svetlanov and to the 100th anniversary of the World War I; at symphonic gatherings for students of Moscow University and the Gnesin Academy of Music. The concerts took placev in various cities of Russia and Germany. Moreover, together with the orchestra, Jurowski performed world premieres of the opera King Lear by S. Slonimsky, Lukeria's songs by A. Vustin and Delusion by S. Prokofiev in G. Gladkov's orchestration and Russian premieres of V. Silvestrov's Symphony No. 3, R. Shchedrin's Beethoven's Heiligenstadt Testament, Beethoven's Symphonies No. 5 and No. 9 in Mahler's re-orchestration, Orff's opera Prometheus, Scriabin's Preparation for the Final Mystery in Alexander Nemtin's realization, and Gennady Gladkov's musical An Ordinary Miracle in a version for soloists, choir, and symphony orchestra. In 2012, at Jurowski's initiative, the Music College of the Moscow Conservatory revived its traditional New Students Induction Ceremony (the annual event that takes place at the Tchaikovsky House-Museum in the town of Klin, with the participation of the State Orchestra). In 2016 at the Tchaikovsky Concert Hall he presented his forth annual educational concert cycle Vladimir Jurowski Conducts and Narrates.

Jurowski carried out musical direction of the staging of W. A. Mozart's Don Giovanni and Die Zauberflöte; R. Wagner's Tristan und Isolde, Die Meistersinger von Nurnberg, and Parsifal; G. Verdi's Otello, Falstaff, and Macbeth; M. Musorgsky's Boris Godunov, P. Tchaikovsky's Evgeny Onegin and The Queen of Spades; R. Strauss's Ariadne auf Naxos and Die Frau ohne Schatten; L. Janacek's The Cunning Little Vixen; I. Stravinsky's The Rake's Progress; A. Schoenberg's Moses und Aron; A. Berg's Wozzeck; S. Prokofiev The Fiery Angel; V. Martynov's Vita Nuova, and others.

Jurowski's discography includes symphonies by L. van Beethoven's, J. Brahms, P. Tchaikovsky, G. Mahler, D. Shostakovich, A. Schnittke; symphonic works by J. Haydn, R. Wagner, R. Strauss, S. Rachmaninov, M. Ravel, G. Holst, A. Honegger, and B. Britten, J. Anderson; operas by E. Humperdinck, G. Rossini, G. Meyerbeer, J. Massenet, G. Puccini, S. Rachmaninov, S. Prokofiev, A. Semenov and others.

In 2000 Jurowski was awarded the Abbiati Prize for Conductor of the Year; in 2015 he won BBC Music Magazine Award for his recording of Wagner's Die Meistersinger von Nurnberg; in both 2007 and 2017 he was named Conductor of the Year at the Royal Philharmonic Society Music Awards; and in both 2012 and 2014 the Russian newspaper Musical Review named him the Person of the Year. In 2013 he was nominated for a Grammy Award. Critics emphasize the grand scale of his artistic vision, his finely interpretations, and his dedication to educational activities.

In 2016 Jurowski was awarded Honorary Doctorate of the Royal College of Music (London) and Honorary Professorship of the Moscow State University.